Three Bike Trailer
Category:
Trailer World Trailers - Bikes
Features:

• Perfectly balanced, yet light weight and robust
• Two adjustable support legs
• Recessed sprung tie-down rings on sides and front to secure bikes in transit
• Bikes loaded from the rear ,with a robust ramp
• Three front-wheel brackets to support bikes as standard fittings
• Ramp stores away on trailer floor with threaded knobs
• Solid floor with perforated tread holes
• Fitted with a lockable coupler(lock optional)
• Equipped with a handbrake chain
• LED tailights are protected
• Spare wheel mounted underneath trailer, at rear
• Spare wheel size - 165x13 inch
• Includes a pad-lockable nosecone
• Aluminium handle on nosecone lid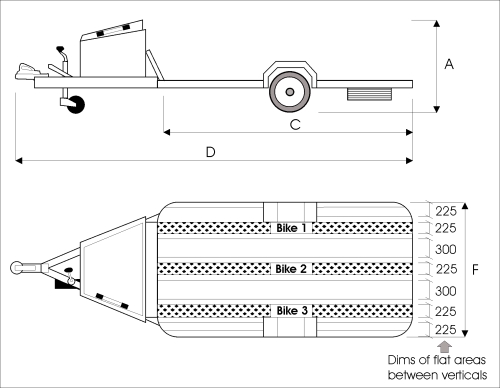 Dimensions
A Height (over all) 1110 mm
C Length (body) 2320 mm
D Length (over all) 3560 mm
F Width (over all) 1980 mm

Technical Info
Tare Mass 240 kg
GVM 750 kg
Pay Load 510 kg
Brakes No brakes
Axle Length 1830 mm
Axle Capacity 1250 kg
Leaf Springs 10 Blade
Wheels 165 x 13 inch

Subject to our general terms and conditions of supply and delivery. Technical data, pricing, dimensions, and weights are subject to change, due to a policy of continual product development. The illustrations are for reference only. Dimensions are in millimetres. Trailer World reserves the right to alter design and specifications without prior notice.