Elite 5 with cycle rack
Category:
Trailer World Trailers - Luggage
With cars scaling down in size for economy and versatility, it is becoming more and more apparent to holiday goers or anyone just wanting to transport items, that an alternative source of space needs to be found. Well, it already has been designed by Venter Luggage trailers.

What would you expect from a trailer that has been part of the South African travel landscape for so long? Well, to be such a survivor you'd probably imagine that the trailer would be high quality, tasteful, constant design and be as versatile as you need it to be. Well, with a Venter trailer you certainly wouldn't be wrong.

This trailer is a veritable workhorse that can be utilized for multiple purposes. The unique design and robustness and its high standards of quality and reliability have been developed and perfected over a period of many years. And boy, does it show.

Constructed from quality corrosion resistant, electro and zinc galvanised sheet steel, the rigid body is both safe and well balanced, maintaining perfect alignment behind the towing vehicle. What's more, only top class, proven materials and parts are used. And with dealerships nationwide, quality service and authentic spares are guaranteed. It's this kind of reliability and quality that has ensured very high resale values.

Features

• Cycle rack for four bicycles
• One spare wheel 155 x 13"
• Nosecone with new toggle catch
• 6 ring holders to tighten luggage
• Number plate twin light fitting
• Alko coupler with plug holder
• Long life special axle with larger bearings
• 5 blade leaf spring
• Two gas lifts on the lid
• New toggle catch on lid
• Aluminium handle on lid
• Bumpstops on axle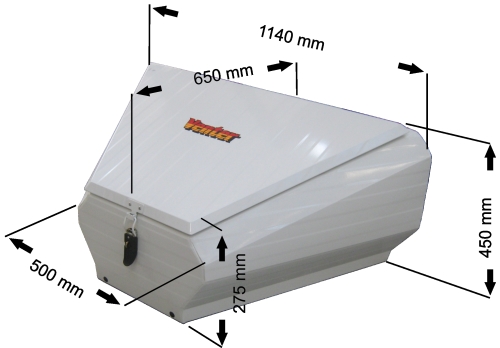 Dimensions
A Height (over all) 1210 mm
B Height (side) 560 mm
C Length (body) 1460 mm
D Length (over all) 2590 mm
E Width (inside) 1180 mm
F Width (over all) 1550 mm
G Ground Clearance 250 mm
I Length (nose-cone) 650 mm

Technical Info
Tare Mass 170 kg
GVM 700 kg
Pay Load 530 kg
Brakes None
Axle Length 1400 mm
Axle Capacity 700 kg
Leaf Springs 5 Blade
Wheels 155 x 13 inch

Subject to our general terms and conditions of supply and delivery. Technical data, pricing, dimensions, and weights are subject to change, due to a policy of continual product development. The illustrations are for reference only. Dimensions are in millimetres. Trailer World reserves the right to alter design and specifications without prior notice.